"Young pushes the limits of digital photography in extreme close-ups of brick buildings, which were captured under cover of night and recorded as "digital noise," in a group of large-scale, abstract color photographs that refer back to its index. Through his mastery of photography, Young applies his personal relationship to the architectonic of brick patterns in a suite of chromatic, geometric abstractions." - Clifford Owens, Curator of Interlocutor, Art Club, September-October, 2022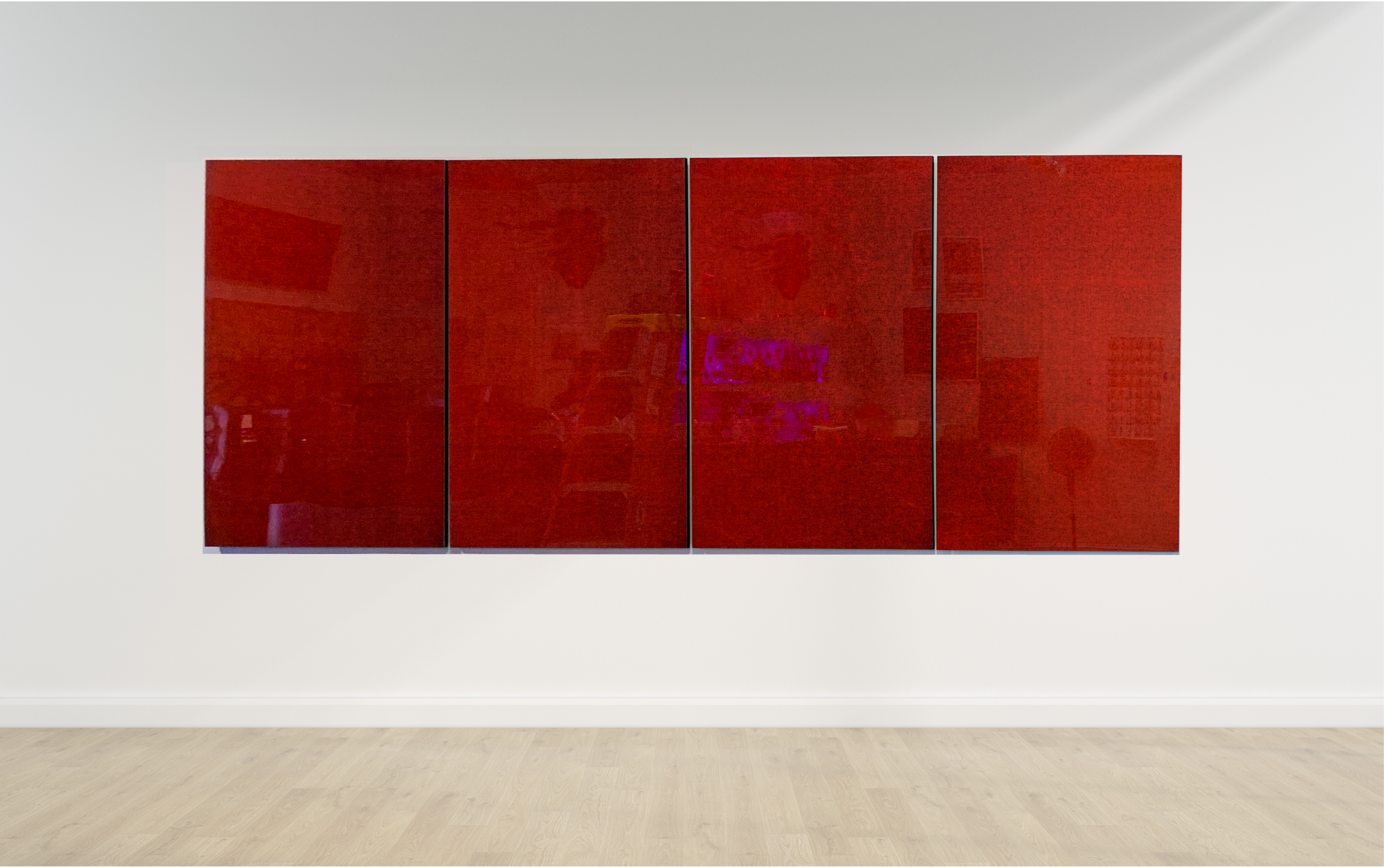 Red Camera, 2012-2022

Quadriptych (4 photographs)
42h x 28w in. ea. (106.68h x 71.12w cm)
Sizes Variable
Ed: 4 + AP
Signed en verso




Brush and Sky Cluster, 2014/2022

Collage
27h x 40w in. (68.58h x 101.6w cm)
Sizes variable
Ed: 5 + 2AP
Signed en verso




Install



Star Cluster
, 2021
Chromogenic print on fuji crystal archive
(In artist framing)
Ed: 5 + AP
---
Montage,
2021
Triptych of 3 volumetric luminograms with custom stainless steel hardware
Weight: 105 lbs total (35lbs per piece)
Ultraviolet ink on cast plexiglass
28h x 18.6w x 1.5d in. (42.2h x 71.1w x 3.8d cm) each
ED: 2 + 2AP
-
Exhibited at Art Basel | Miami 2022


-
AP2 exhibited in "The Patriot" at O'flahertys, New York

Montage, 2021 contemplates the increasing dematerialization and entropy of images and imagemaking. In an updated approach to the tradition of mark-making, fragmented blue and magenta forms are the result of movements in space with red, green and blue light sources, around an exposed camera sensor, from varying distances and positions.

The forms are the self-reflexive shadow contours of the insides and outsides of the camera body cast onto the sensor. The magenta is the result of the blue and red light mixing. Red, green and blue light was chosen due to being the building blocks of the additive color system of light.

The objects' dimensions are that of standard digital photographs. They are rotated into portrait position in order for the viewer to more easily internalize them as objects as opposed to images. The thickness of the substrate was chosen to enhance each site's interaction with the work. The objects' distances from the wall behind them determine the color saturation by affecting their opacity.

Tangentially the act of creating this work work was inspired by the infamous Double Slit Experiment, the basis for our current understanding of quantum physics. In this experiment, scientists directed light sources at surfaces with two thin, parallel vertical openings, in order to observe whether the resulting patterns on the wall behind the openings were scattered in the way of interfering waves, or individually landing photons. The primary purpose of this was, of course, to attempt to pin down light's essence as either particle or wave. This led to the legendary, startling discovery that light is both, which changed everything.

Lastly, there is a multi-generational heritage in the world of real estate and construction to contend with, which is certainly evident in the objecthood of this lens-based work. Rotated back into landscape orientation, and arranged vertically, they can be seen as bricks. In portrait orientation: windows. Without space between them: a wall.
Memories of the Future, 2014/2020
Archival pigment print on dibond, UV plexi face mount, aluminum brace
48h x 36.5w in (121.9h x 92.7w cm)
Ed: 3 + AP
Signed verso
Memories of the Future
, 2020 re-envisions the essential elements of time-based and still imagemaking, frames of film, as essential elements of building and construction: bricks. Presented as a vertical structure, this single roll of medium format transparency film is filled solely with light and color from the sky, uniting ephemerality with permanence.
Exhibited
Art Basel / Miami Art Week 2021, SATELLITE 2D (presented by Maverick Expo)
Curated by: Brian Andrew Whiteley.
Also exhibited as part of Museum of Contemporary Art Detroit's (MOCAD) Rapid Response Group Show, March, 2020
Curator: Wayne Northcross